Flex Controller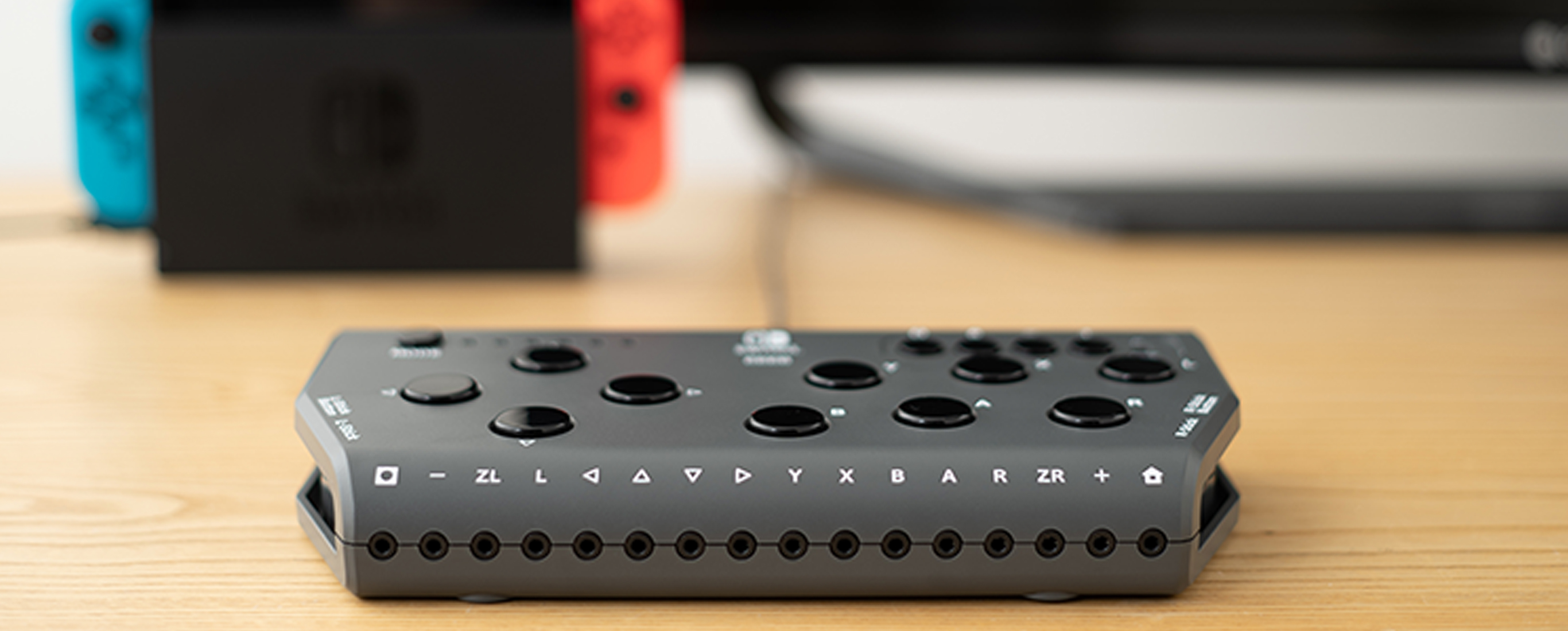 The Flex Controller was created to bring the joy of gaming to more people. While developing the Flex Controller we worked with gamers who are affected by Muscular Dystrophy, SMA (Spinal Muscular Atrophy), Cerebral Palsy, and other physical challenges as well as medical professionals to create a truly inclusive product with accessibility in mind. This product was designed and developed under the supervision of Technotool Co., Ltd., who specialize in developing products specifically for the physically challenged. We would like to express our gratitude to everyone who assisted with developing this product.
----------------------
FAQ | Buy the Flex Controller | Instruction Manual | Home Page | Customer Support
----------------------
Product Information
Enjoy games using various external assistive switches and joystick attachments.
Instead of the traditional controller shape, the Flex Controller allows additional assistive switches and joysticks to be connected via the auxiliary and USB ports (sold separately). This allows users to customize the set up and interface to meet their individual needs. The following products can be used with the Flex Controller:
| | |
| --- | --- |
| Products made by Technotool Co., Ltd. | Products made by HORI |
| | |
Assistive switches that have 3.5mm jack can be used with Flex Controller. For a list of compatible assistive switches, please check here: https://www.ablenetinc.com/switches/all-switches/.
Please note that some assistive switches such as sensor assistive switches cause input delay or/and automatic button mashing or holding.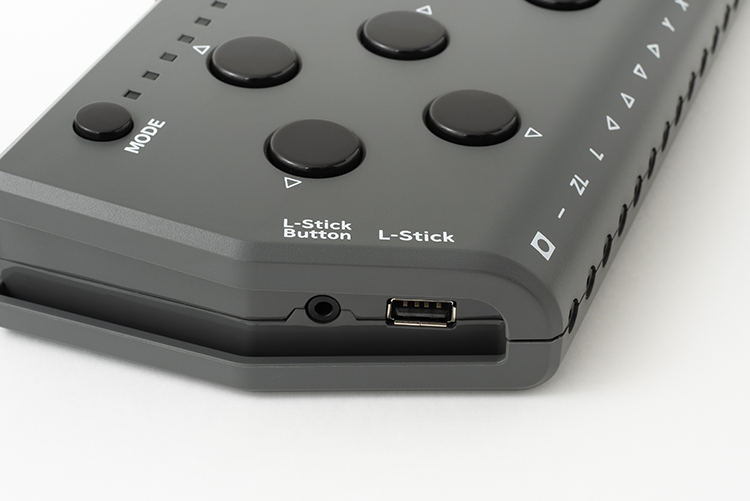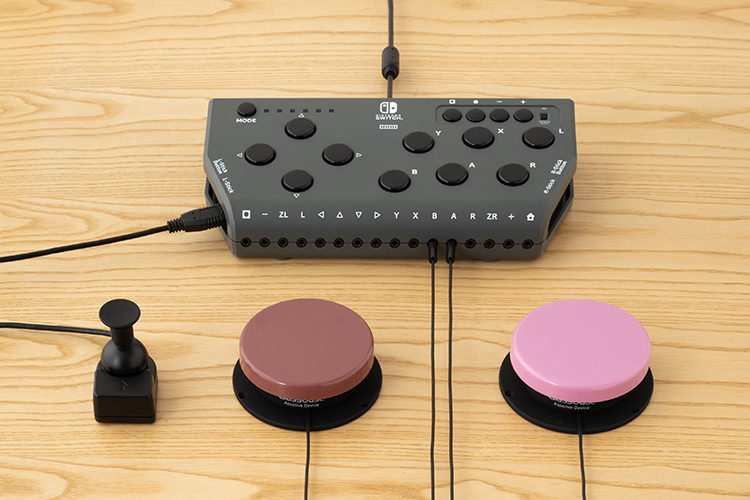 ※Analog Joystick and Buttons sold separately.
Accessible Buttons
The top of the Flex Controller has additional buttons for easy access by players or caretakers while navigating and inputting commands.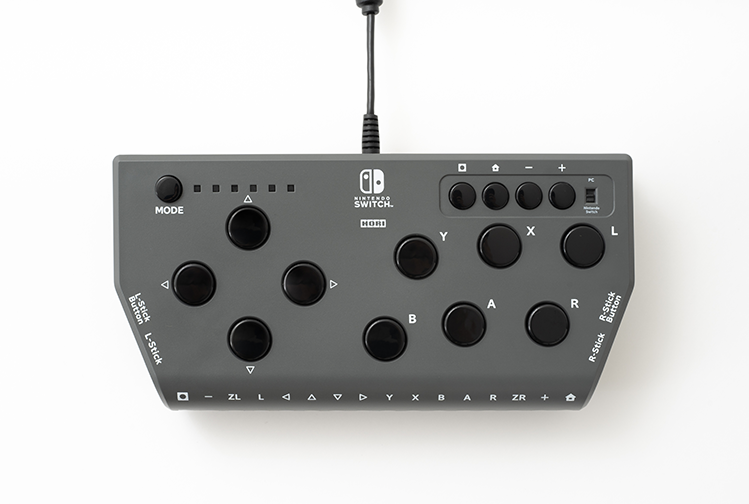 Attach to a Stand
The controller can be attached to a stand such as a camera mount by using a ¼ inch camera screw.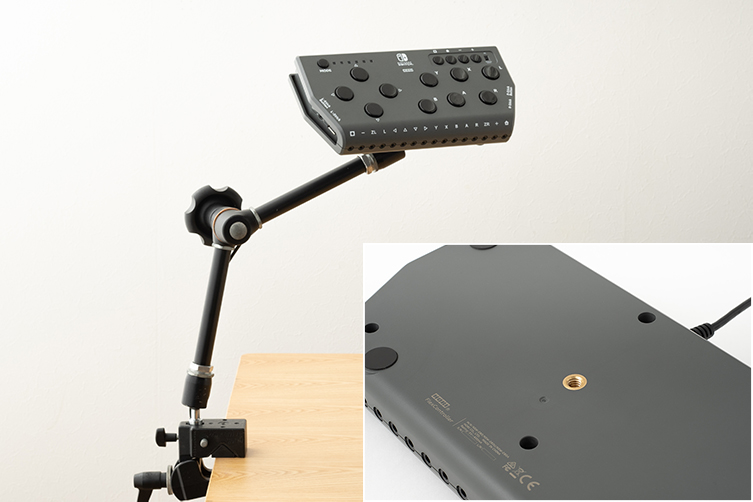 ※Stand sold separately.
----------------------
Advanced Support Features
Change Button Assignment
By using the dedicated Flex Controller Settings App, the assigned button functions of the assistive switches and joystick settings can be adjusted. Up to 12 profiles can be saved, six for the Nintendo Switch and six for PC. The Flex Controller Settings App is only compatible with Windows.
Eye Tracker / Line-of-Sight Commands
With the Flex Controller Extension App, games can be played with line-of-sight commands by using an eye tracker. A Windows PC, eye tracker/line-of-sight sensor, and video capture unit is required.


----------------------
Product Specifications
External Dimensions:(W)250 mm×(D)65 mm×(H)125 mm
Weight: 510 g/ 1.1 lb. (approx.)
Connection: USB-A
Compatible Operating System:Windows®10 / 8.1
Required System: USB port, internet connection
Only compatible with XInput games and does not support DirectInput.
An internet connection is required to update the Nintendo Switch or install the XInput driver on PC.
Precautions for when using on Nintendo Switch
Please read the enclosed user manual before use.
Please check that your Nintendo Switch is updated to the latest system version before use.
This product does not plug into the Nintendo Switch directly. Please connect it to the Nintendo Switch dock.
This product can only be used in TV Mode and cannot be used in Tabletop Mode or Handheld Mode.
This product does not have the following functions: Gyro, Accelerometer, HD Rumble, NFC, IR Camera.
----------------------
This is not a wireless controller.
The image on the packaging may differ from the actual product.
The manufacturer reserves the right to change the product design or specifications without notice.

Nintendo Switch is a trademark of Nintendo. © 2021 Nintendo.

Windows 8.1 and 10 are trademarks of the Microsoft group of companies. All other trademarks are the property of their respective owners.
HORI and HORI logo are registered trademarks of HORI.